Monthly Archives:
March 2016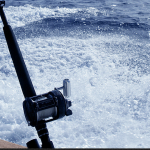 During the fall and spring seasons in the clear shallows anglers who fish in the Gulf of Mexico realize just how many grouper can be caught. It's because they hide in the deep surrounding rock formations down in the holes of the porous gulf floors.
When Gulf water temperatures dip in late fall,
gag grouper
move up onto the flats in good numbers. Sight-casting to grouper? You bet. "They'll nail a top water plug or a fly (with a 12-weight, minimum), and even jerk baits rigged for trout," says Captain Gregg.
Captain Gregg says serious grouper-fishing enthusiasts watch their GPS/depth sounders for the right surrounding habitat and structure where they'll drop live baits using heavy lead sinkers or lead feathers with sqiud to the bottom and slowly drift in the rock formations.
Captain Gregg says, "I guard these spots with my life!"and avoids excessive exploitation. His
anglers release many grouper,
which may be undersized in or out of season, but also larger ones for conservation reasons (though he acknowledges that there's nothing wrong with keeping a few legal fish for dinner).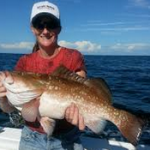 While finding gags in the shallow rock piles and hidden springs that target this coastline isn't always easy, for those who know where to look, it can be a remarkable way to
catch grouper.
There are different types of grouper caught in the gulf such as Red, Yellow, Gag, Black and Goliath grouper and the gag are seasonal as well as Goliath are illegal. The size limits are at least 22" and all put up a tremendous fight like puling in dead weight.
When You Get a Big Bite
1. Keep your rod pointed straight down, and always make sure you are in contact with the bottom.
2. Bring your rod straight up, get a turn or two on the reel and hold it there. Don't give an inch.
3. The fish will jolt a few times but almost always quit for just a second. That is your window of opportunity.
In that window, get as much line on the reel as possible. Once you've pulled the fish 12 feet or so off the
bottom, it's pretty much game over for the fish.
The point is to never allow the fish to take any line; if it does, make sure it earns it.
Captain Gregg says,the secret of course is know when and where.
Save
Please follow and like us: